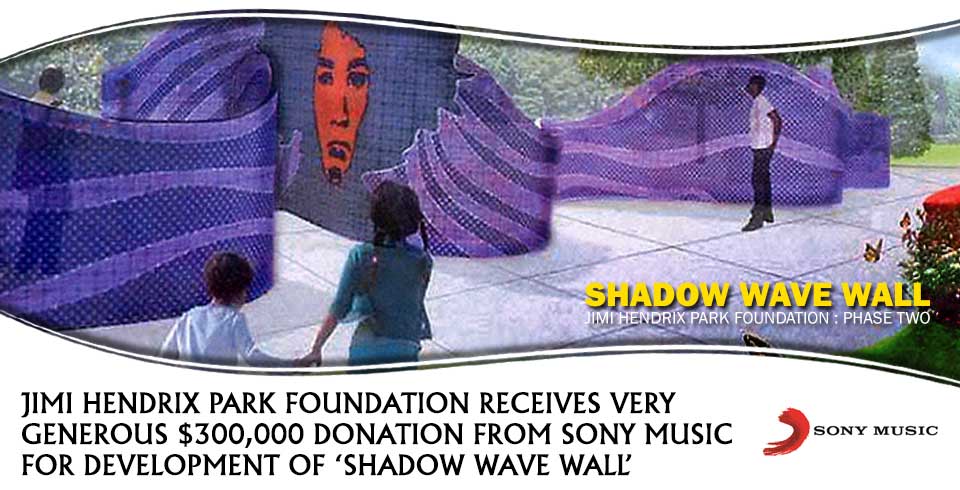 SEATTLE, WA (April 3, 2017) — The Jimi Hendrix Park Foundation is extremely proud to announce the forthcoming completion of the Shadow Wave Wall in Seattle's celebrated Jimi Hendrix Park, thanks to the overwhelming generosity of Sony Music. This magnificent structure, crafted and sculpted to create a moving experience for those who view it, is one of the most impressive jewels of the Park.
The $300,000 donation by Sony Music makes possible the realization of a dream to complete the "Shadow Wave Wall" and will serve as one of the focal points in the Park. We would like to thank Sony Music for this enormous contribution, demonstrating their continued dedication to the legacy of Jimi Hendrix.
Now Open!
Friday, October 7, 2016

If landscapes were lyrical, the layout of the newly opened Jimi Hendrix Park in Seattle might be reminiscent of a scene created by one of the iconic musician's songs. Gently curving walkways, comfortable benches, sculpted green lawns and a central plaza create a welcoming atmosphere for visitors to Jimi Hendrix Park.
Situated on 2.5-acres in Seattle's Central District, the area landmark honors the hometown music great for his artistic contributions not just to the Pacific Northwest, but on the world stage. With Phase 1 now completed, the park will be opened to the public on Oct. 7, 2016. Phase 2 is still in the works with an expected unveiling in 2017. This initial phase, named "Little Wing," marks the much anticipated introduction of a project six years in the making. The construction fencing will be removed during the day on Friday, Oct. 7. The public is invited to join members of the Jimi Hendrix Park Committee between 2 and 4 p.m. for "Little Wing Ramble: A Walk Through Jimi Hendrix Park."
The Friends of Jimi Hendrix Park Committee, Jimi Hendrix Park Foundation and Seattle Parks and Recreation collaborated to bring this dream to life, celebrating Jimi Hendrix. It is a long-awaited dream come true for the family of Jimi Hendrix and all those who love his artistry, said Janie Hendrix, founder and director of the Jimi Hendrix Park Foundation.
"This beautiful park will provide a welcoming and inspiring community gathering space as well as a place for fans of Jimi's music to celebrate his indelible contributions to the music world," said Hendrix, the sister of the legendary guitarist, who has been involved since the planning stages. "Seeing the work in living color, now tangible and not just on paper or a drafting board, is like hearing Jimi's music for the first time. It's overwhelming."
Located at 2400 S. Massachusetts St., adjacent to the former Colman School that now houses the Northwest African American Museum, the new park fits in beautifully with the cultural essence of the area. The park features a grand entrance and stairway adorned with Jimi's signature at the corner of Massachusetts and 25th Avenue South, lending convenient access. A walkway toward the central plaza incorporates a timeline of Jimi's life and career embedded in the pavement, making it historical and educational. In keeping with the musical emphasis, lyrics from the iconic Hendrix songs "Angel" and "Little Wing" are etched into a purple ribbon along the timeline. But the creativity doesn't end there. New plantings of trees and flowers decorate the terrain, as well as four rain gardens with native plants and a butterfly garden with flowering shrubs to improve environmental sustainability.
For added convenience, an additional access point recently was added with the construction of a paved walkway from 23rd Avenue South, with funding provided by the Seattle Neighborhood Park and Street Fund.
The park design by Murase Associates of Seattle was inspired by the music and art of Jimi Hendrix and also involved public participation from the neighborhood. Contractor EERG of California led the construction process during the past year. Funding of $1.5 million was raised through countless individuals, grants and donations from sources including the Seattle Parks and Green Spaces Levy Opportunity Fund and the Seattle Department of Neighborhoods Neighborhood Matching Fund. Major donors include:
Hard Rock International

KISW Radio

Experience Hendrix LLC

Authentic Hendrix LLC

King Conservation District

Northwest African American Museum

Seattle Parks Foundation

Fender Musical Instruments Company

Monterey International Pop Festival

Nisqually Indian Tribe Charitable Fund
Phase 2 of the park will include installation of a colorful central shelter to serve as an amphitheater for live performances and multi-use. The shelter's canopy is funded by 4Culture and a King County Council Building for Culture Grant. An additional $329,000 must be raised in order to create the iconic "wave wall" displaying silhouette images of Jimi Hendrix on the north ridge of the park. Both components will complete the second phase. Following the installation of the central shelter, a grand opening celebration is planned for the summer of 2017.
# # #
Photo Gallery
September 23, 2016 | Jimi Hendrix Updates
Photos by: Jimi Hendrix Park Foundation
Jimi Hendrix Park
Project Update Photos
September 23, 2016

Jimi Hendrix Park
Project Update Photos
September 23, 2016

Jimi Hendrix Park
Project Update Photos
September 23, 2016

Jimi Hendrix Park
Project Update Photos
September 23, 2016

Jimi Hendrix Park
Project Update Photos
September 23, 2016
Help Rock The Park

Fundraising Progress
Phase 2 "Are You Experienced?"
Thank you for your generous support in helping us raise $329,000 for Phase 2 construction.
Phase 1 "Little Wing"
Thank you for your generous support in helping us raise $1,688,925 for Phase 1 construction.
Construction Progress
July 18, 2014
GROUND BREAKING CEREMONY

Help Support Jimi Hendrix Park
DONATE TODAY!

March 2015
CONSTRUCTION CONTRACT

April 2015
MOBILIZATION BEGINS

May 2015
PHASE 1 CONSTRUCTION

June / July 2015
DEMOLITION & UTILITIES

July / August 2015
CONCRETE POURS COMMENCE

September / October 2015
MAIN PLAZA & TIMELINES

October 24, 2015
RAIN GARDEN PLANTING

November / December 2015
SIGNATURE LOGO INSTALLED

Help Support Jimi Hendrix Park
DONATE TODAY!

January / February 2016
TURF GROWTH CONTINUES

March / April 2016
PLANTS & TREES GROWING WELL

April 2016
SPRING CONSTRUCTION RAMPS UP

April / May 2016
PHASE 2 FUNDRAISING

Help Support Jimi Hendrix Park
DONATE TODAY!

May 10, 2016
WAYFINDING SIGNS INSTALLED

July 19, 2016
ATLANTIC STREET WALKWAY
---
About Jimi Hendrix Park
Inspired by the music and legacy of Jimi Hendrix, the park, named in his honor, will beautify Seattle, motivate youth and others to achieve in music and art, and strengthen the cultural pulse of the Emerald City, Jimi Hendrix's hometown.
Jimi Hendrix Park is located in the heart of Seattle's vibrant Central District (2400 South Massachusetts Street), a thriving multi-cultural community rich in heritage. Nestled adjacent to the Northwest African American Museum and grounds of former Colman School, Jimi Hendrix Park will be a primary focal point for multi-cultural events, gatherings, and activities for the community.